A must-see attraction in Calgary, it gives an amazing, birds-eye view of the city all the way to the mountains on the west side.
The Calgary Tower is a 626 feet tall observation tower in Downtown Calgary, Canada. The tower was renamed to Calgary Tower in 1971, from its original name ( Husky Tower). It opened to the public on June 30, 1968 and is the tallest building in Calgary.
The tower also features a carillon ( a musical instrument consisting of 23 cup-shaped bronze bells, which are played serially to produce a melody – It is typically housed in the bell tower of a church ). This was presented to the city by the local Dutch community in 1975 as part of the city's centennial celebrations.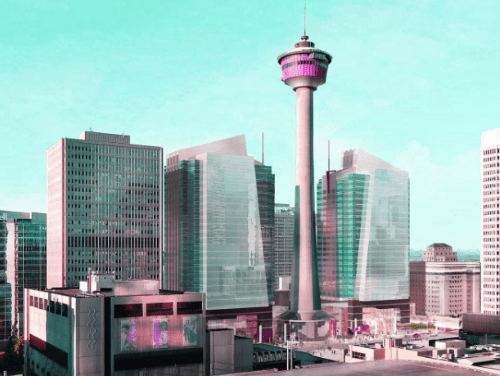 Main Floor Hours: Daily: 9:00 a.m. – 9:00 p.m.
Address :
101 9th Avenue SW
Calgary, Alberta
T2P 1J9
Dining options :
Ruth's Chris Steakhouse (Phone : 403-246-3636 )
Located at the base of the Calgary Tower on the 2nd level. (Open from 5:00 pm everyday )
Sky 360 Restaurant (Phone : 403-532-7966 )
SKY 360 Restaurant offers a full view of the city as it revolves once every 45 minutes during lunchtime and once per hour during dinner service.
Lunch: Monday – Saturday 11:00 am – 2:00 pm.
Dinner: Monday – Sunday 5:00 pm – 10:00 pm.
Brunch: Sundays 10:00 am – 2:00 pm.