All about Bruges
Belgium (actually Kingdom of Belgium) has three official regions – the Flemish region, Walloon region and the Brussels-Capital region. The Flemish region (originally Flanders) occupies the northern part of Belgium. This region has five provinces – Antwerp, Limburg, East Flanders, West Flanders and Flemish Brabant. The largest three cities in this region are Antwerp, Gent and Bruges (or Brugge in Dutch).
Bruges (Brugge), a port city, is the capital of West Flanders. In 2000 the historic center of Bruges has been made a World Heritage Site of UNESCO. It has the College of Europe (College d'Europe), an independent university started in 1949 for postgraduate European studies and affairs. It is the oldest institution for these studies. The other of the two campuses is in Natolin in Warsaw, Poland. Bruges (along with Salamanca in Spain) was chosen the European Capital of Culture for 2002.
The European Capital of Culture is a region designated by the EU for a period of one year. This gives them the opportunity to present their culture and heritage to the world. This has economic implications through increased tourism. There have been a number of cities in Europe that had been given this designation since 1985 when it was started – the first being not surprisingly Athens.
2008 European Capital of culture label has been given to Stavanger and Sandness in Norway as well as Liverpool in U.K.
Like a lot of Europe, this city is also seeped in history. And rightfully so – since the city dates back to 1128 AD and the earliest settlements here dates back to first century BC. From 9th century till middle of 14th century the town was under the counts of Flanders. Early 15th century it came under the dukes of Burgundy. This entire period saw tremendous prosperity and growth. Thus by the fifteenth century this had become a commercially and culturally thriving city. The city is famous for the Flemish paintings of this period. But from the 16th century onwards the decline started. It is only in the twentieth century that matters started improving again. The port was rebuilt and the city also became a major tourist attraction.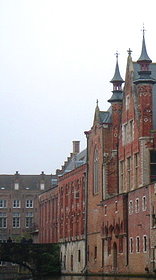 The notable aspect for a non-European visitor would be that the look of most parts of the city is so medieval. That is because much of the structures and edifices have their medieval designs unchanged. The red/brown/grey bricked, slanting step roofed edifices with frontages with some art work, towers and spires et al is amazing. The typical cobbled stone alleys and canals give the city a picturesque look. Many of these though built in fairly modern times adhered to the old designs to maintain uniformity and thus carry on the medieval look. Of course there are the Plain Janes of buildings and new construction here but then one tends to remember the splendid old ones. Given here is a map of the city. Its helpful for navigating the place. Bruges City Map – Source Toerisme Brugge.
This is comparatively a small city but there are a number of places within this city that one can visit. The best way to explore this place is through walking tours, through open-top boats gliding through the canals, horse-drawn carriages, or bicycling. The canals have small stone bridges crossing them. Reminds one of Venice. No wonder it is called the "Venice of the North." Walking gives a holistic perspective of this almost quaint city. For sightseeing outside Bruges taking a boat, bus or mini coach is convenient. Another cruise one can take is the one covering Bruges, Antwerp, and Gent (they are located like three points of a flat triangle).
How to get to Bruges (Brugge), Belgium – Transportation
For international travelers the airports most convenient for Bruges include Brussels airport (Zaventem) from where it takes about an hour, the Charleroi Airport towards the south of Brussels which is about an hour and half from Bruges and the Ostend Airport which is for charters and private jets.
Bruges is very well connected by rail. There are regular and frequent trains from Brussels, Antwerp, Ghent, Ostend and Zeebrugge (the port). The railway station is located to the south of the small city on Stationsplein. It also has a bus terminal next to it. There is a car park on 't Zand where one can leave the car and proceed further into the city center on bus or on foot or taxi. Due to the attributes typical to this city including the one-way streets, it is better not to take the car in.
By Bus to Bruges (Brugge):

Bruges is connected to London and other parts of Europe by the Eurolines network.

By Train to Bruges (Brugge):

Brussels to Bruges train – From Brussels-Midi station it is about an hour by train to Bruges. From the Brussel-Nat-Luchthaven (in Zaventem) it takes about and hour and a half to Bruges. This could be via Gent, Brussels-Midi or Brussels-Nord stations.
Train from Amsterdam to Bruges – From Amsterdam, it could take about nine hours by rail to Bruges. Also one would have to transfer from one train to another. It is better to go from Brussels.
Paris to Bruges train – From Paris to Bruges by rail it takes about two and a half hours. One can take the Thalys or TGV to Brussels-Midi and take the Intercity from there on to Bruges. Or one can take the TGV to Lille Flanders and the RegionalExpress to Bruges.
Others – Linked by rail to other places like Rotterdam, Luxembourg, Bologne, Rome, Milan etc. (Transfers required).
By Sea (ferry services to Bruges)

1) Daily ferry service available form Hull (U.K.) to Zeebrugge – about 14 hours. Night crossing available.
2) Service available from Rosyth (Scotland) to Zeebrugge – about 17 ½ hours. Night crossing available.
3) Ferry service from Ramsgate (South England) to Ostend.
4) Since Calais is about ninety minutes drive away from Bruges, taking the Dover-Calais ferries is also an option.
For details and trip planner – Delijn.
Traveling within Bruges (Brugge), Belgium – Transport Information
The best way to get around Bruges is to walk. The centre is only about 15 minutes walk from the station. Also there are buses leaving from the station every 10 minutes. There is also a taxi stand at the station. The buses would have the "Centrum" tag on it. For the centre one can get down at Markt.
Walking or cycling are the best modes of transport in Bruges city center. Other modes of sightseeing are open-top boats cruising the canals and horse-drawn carriages. The buses leave from the rail station and also from the station at 't Zand. They stop at Markt which is the city center. Once there one can walk or bike. Bicycles are available for hire for a small deposit and diurnal charge from the railway station, bike rentals around the city, and also some hotels. Biking is a great option and it is encouraged. For pedal bikes most streets are two-way but some streets might be one-way and if caught going in the opposite direction one could get fined. So it is better to check that out at the outset. A map of the city given here (a PDF file) would help.
For Bruges guided tours (on foot and Bike) the following seems to have a good tour line-up:
S-wan vzw
Huis ter Beurze
Vlamingstraat 35
8000 BRUGGE
Belgium
Tel: 0499 72 37 10
Main Bus stops within Bruges are –

Railway Station
Centre – Markt
Wollestraat
Biekorf, Kuiperstraat
Within Bruges and the surrounding areas like Damme, Oostkerke, Zedelgam etc. the bus fare is 1 Euro. A change to another bus within an hour means there is no charge. Also there are passes available (from De Lijn bus company) like the day pass with which one can travel within the city and the surrounding areas unlimited. For Children below 12 years age, the daypass is valid for the entire Flanders region. There is also the Lijnpass which costs 25% less than single tickets. This can be used when the travel is more extensive to other Flemish cities.
From the Station one can get the regional buses also. This is convenient for Gent, Zeebrugge, Oostende etc.
Parking for coaches and camper vans in Bruges:

For coaches, the parking spot is Bargeplein, a coach park. These are not allowed in the city center.
Camper van parking areas are available at Canal Island (Kanaaleiland). One section has an overnight parking facility with a 20 euro charge between April and September and 15 euro for other months. The other section is for short-term parking with rates of 5 euros for less than 5 hours, 5 to 9 hours being charged additional 1 euro per hour. Overnight parking is not allowed in this section.
On the parking lane along the Ring Road R30 all types of vehicles can be parked – including camper vans. This lies between the city gates of Gentpoort and Kruispoort.
Note on buses and trams in the Flanders region:

Children between 0 and 5 years can travel free in the buses and trams across Flanders. As far as rates are concerned it is quite simple. There is one rate for short distance i.e. in 1 and 2 Zones and another single rate for long distance i.e. 3 or more Zones.
If the bus or tram tickets are bought in advance (and not on the bus or tram), it is cheaper by nearly 20%. This is done to encourage people to buy tickets in advance so that the driver does not need to spend time selling tickets. The tickets can be purchased at various outlets including supermarkets, newsagents, petrol (gas) stations, railway stations et al.
Official site