Miami Airport (MIA) has three parking lots / garages– a two-level short term parking lot in front of Concourse E and two seven storied parking garages called the Dolphin and Flamingo parking lots. These are connected to the terminal by walkways on third level. These parking lots though are connected at their western ends.
Miami Airport (MIA) Short term parking – The parking lots directly in front of Concourse E are meant for short term parking. The upper short term ia accessible to the departures level while the lower one accessible via the arrivals level.
MIA Miami Airport Dolphin garage – Short Term Parking is accessible to the North Terminal (Concourses D and E) and also the Central terminal. It is located across from Customs E on both departure and arrivals levels.
What garage to use when flying American Airlines, Qatar Airways, British Airways, and JetBlue from Miami?
You would use the Dolphin Garage when flying American Airlines, Qatar Airways, British Airways, and JetBlue
For all the other airlines from MIA, use the Flamingo Garage.
The Flamingo garage is located close to the South Terminal and serves Concourses E to J.
Miami Airport (MIA) Long-term parking –
Long-term parking at the Dolphin Garage serves the North Terminal, concourses D and E while the Flamingo Garage serves the South Terminal, concourses E to J. These can be accessed on the arrivals or departure levels of the airport.
Miami Airport (MIA) Garage parking rates –
$2 for every 20-minute increment with a Maximum daily rate of $25. The maximum daily rate applies after 4 hours.
What is the most cost effective parking in MIA? That would be the Economy parking Park and Ride that has a daily rate of $12.
The Miami Economy Park and Ride address is 1350 NW 45 Avenue, Miami, Fl – 33126. It is located towards the south south-east of the terminal. A free shuttle service operates to and from the terminal 24/7.
Economy parking – Miami International Airport (MIA) park and ride rates – $12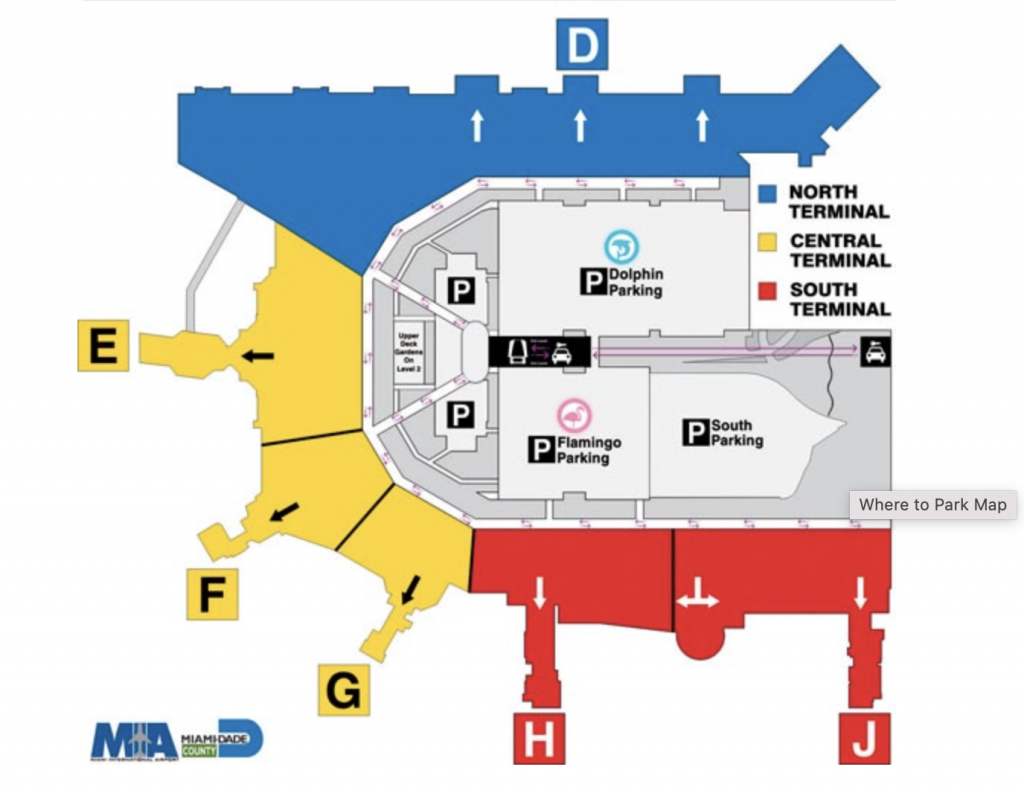 MIA – Miami Airport Offsite Parking Facilities
A number of parking garages offer internet-only Discount Parking Coupons.
Miami Airport Cell Phone waiting lot- If you are waiting to pick up someone from the airport there's free parking at the Cell Phone waiting lot that has 60 spaces for private, not-for-hire vehicles.
EV parking at Miami Airport -This available 24/7 at Arrivals 1st level, inner loop between Terminals E and G and Departures 2nd level, valet parking at the Dolphin and Flamingo Garages.
MIA – Miami Airport Wyndham Parking
Located at 3900 NW 21st Street, the Wyndham Hotel provides a "Stay and Park" package, where one gets 7 nights of free parking for every single night of hotel-stay. There is a 24 hour complimentary Airport Shuttle service.
MIA – Miami Airport Continental Airport Parking
A shuttle service is available from this offsite parking lot, which is located about a mile away from the airport. Please note that there is a $2 surcharge for covered parking.
MIA – Miami Airport Fast Park
Located at 4101 NW 31st St, AFP ("Airport Fast Park") is well connected through shuttle bus to all the terminals.
In addition, many Hotels offer Park n Fly, Park Ride and Park-Sleep-Fly packages. Embassy Suites and Crowne Plaza Hotel offers Parking facilities and shuttle services to & from the airport.
Miami International Airport Valet parking–
Valet parking at MIA is accessible from the departure level, across from concourse C from Departures/2nd level of the Dolphin and Flamingo Garages.
Valet parking rates –
Short term stay (0 to 3 hours) $22.00
Overnight parking (3 – 24 hours) $35.00
Max Daily rate: $35
Vehicles parked in Valet parking have availability of up to a max of 20 days.
Each terminal at MIA / Miami Airport has its own Parking and Ground Transportation facilities.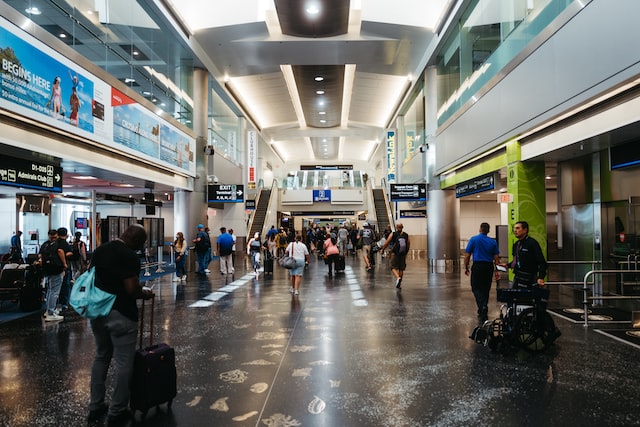 Miami Airport -MIA-Taxi/Cab fare, Metro Bus, train, tri-rail, shuttle
Miami Airport Ground Transportation information –
Miami Airport Taxi / Cab and shuttle service–
Taxi / cabs and shuttles at MIA are available only on the Arrival (Ground) level outside the baggage claim areas.
Flat rates for taxis at MIA / Miami Airport are based on the Zones to which one is traveling. These rates include airport origination fees and highway tolls.
Miami Airport Bus service (Metro-Bus) –
Bus service from MIA serves the Miami-Dade region (Metro-Bus). Buses at MIA are available from the Ground level of Concourse E.
Buses from the Miami Airport go to numerous locations such as the Miami Beach Convention Center, South Beach, Downtown Miami (Bayside), Coconut Grove (Cocowalk), Metrozoo. MIA buses ply to the Greyhound Bus and Amtrak stations as well as to the shopping centers of International Mall, Dolphin Mall, Dadeland Mall, Aventura Mall and Brandsmart.
Miami Airport – Metro-Rail
Miami International Airport Metrorail station can be reached from MIA by a short ride on the MIA Mover.
Other modes of transport serving the city of Miami are the Metro-Rail and Metromover systems. Metro-Rail serves the entire Miami-Dade region. It runs from Kendall through South Miami. The Metromover (an automated people-mover system) serves downtown Miami from Omni to Brickell. It connects with Metrorail at Government Center and Brickell Stations.
Miami Airport Tri-Rail (commuter train) service –
Tri-Rail, a Commuter Train service, provides service to the Miami airport from Broward and Palm Beach counties. The Airport Station for Tri-Rail at Miami is located east of the airport across Le Jeune Rd. Bus connections to the Tri-Rail Airport Station are available from the bus station. For passengers with valid Tri-Rail ticket, Metro-Bus provides free shuttle bus service to the Miami Airport.
Miami Airport Car Rentals, (MIA) –
The MIA Mover is located on the 3rd level between the Dolphin and Flamingo garages. You can get to the car rental facility by boarding the free MIA Mover. This connects directly to the customer service lobby of the car rental companies.
A cheaper but more comfortable alternative for commuting to and from the Miami airport is to avail of the shared shuttle service. These shuttles can pick up passengers from home, office, or hotel and drop at the airport as well as pick up passengers at the airport. Of course, since one would be sharing the ride with other passengers, one needs to have more time in hand than say a cab/car. Reservations are required for pick up from home/hotel/office whereas from the airport reservations in advance are encouraged though not necessary.
Miami International Airport, MIA Terminals
Miami International Airport (MIA) (a.k.a. Wilcox Field) is located about 8 miles from the Central Business district of Miami, in the Miami-Dade county, Florida (USA). MIA – Miami Airport serves the Miami Metropolitan area and the cities close to it are Miami, Doral, Miami Springs and Hialeah and also the area of Fountainbleau.
MIA is a hub for American Airlines, Executive Airlines (under American Eagle name), Gulfstream International Airlines (under the name of Continental Connection) and a number of cargo airlines. Miami airport handles flights to the southern Americas and Europe apart from the domestic flights. It is one of the major gateways to Latin America.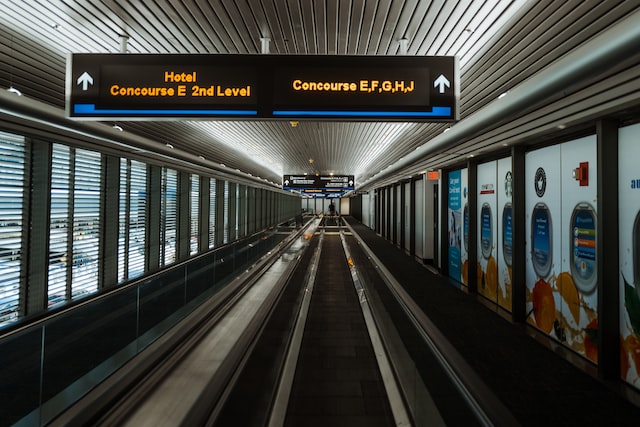 Miami airport Armed forces service center
This facility has free snacks, magazines, TV, phone and computers with internet connection. The center is run by volunteers and is available for military personnel and their families.
Banking facilities at Miami Airport – ( BOFA – bank of america) branch is located at concourse B level 4. ATMs are located throughout the terminals.
The Miami International Tourist Information center is located at Concourse E, Level 2. ( near the Miami International Airport Hotel ). The center is open everyday from 6 A.M. to 10 P.M.
The Miami International Airport Hotel is located at Concourse E, Level 2 and offers 260 soundproof rooms. Facilities include "top of the port" restaurant and conference rooms.
Miami Airport Clubs & Lounges – A number of clubs & lounges are available at various concourses. The admirals club located at concourse D offers a seating capacity of 320, cybercafe , shower facilities, kids-club, music lounges, complimentary tea, coffee and snacks etc.
Miami Airport (MIA) Terminals/Concourses –
The Main Terminal at Miami Airport (MIA) is a semicircular shaped edifice with the concourses D to J around it. Concourse A is currently not in use due to airport extension work going on and "I" is omitted. Concourse E and J handles the international flights. MIA is different from other airports in terms of terminal/concourse usage. No airline holds leases or ownership on any terminal space and hence the airport assigns the terminals and gates. The concourses currently in use at MIA / Wilcox Field are D, E, F, G, H and J. The main terminal is divided into the north terminal, central terminal and south terminal.
Things to Do in Miami
Miami, being the vibrant city that it is, has a lot to offer visitors. Though one might picture beaches and people having a good time in the city, there's more that visitors can do – from events in parks to art museums in South Beach.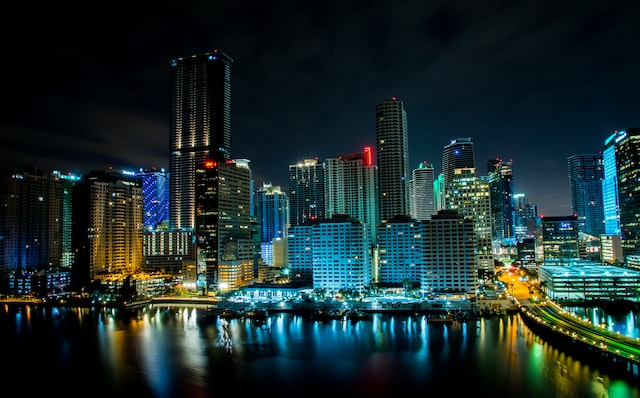 Crandon Park
Crandon Park is an urban park in Miami and it is located north of Key Biscayne. This park is over 800 acres. It has a beach on the Atlantic side and a marina. There is an amusement park here where kids can have a lot of fun and enjoy themselves. This is a great place for family outings since there are picnic tables and a lot of space for kids to play.
On a warm day, the beach is a nice place to spend time but the prevalence of seaweed and the murkiness of the water produces smells which put off many of the visitors. There's plenty of parking available here but sometimes if it is too crowded it is difficult to find a parking spot. An example of a crowded day would be say the Fourth of July holiday.
You can rent beach chairs if you want. The one downside of this place is that you have to pay for parking. The parking is a flat rate for the full day and if you're staying for one hour it does not make sense since you would anyway have to pay the same amount.
If it is not crowded it does make a beautiful place to relax and enjoy a family day out in the beach. With the palm trees and white sand this place does exhibit very good vibes for a vacation.
The park has facilities for a lot of activities including biking kayaking, paddle boarding, tennis, wakeboarding, canoeing, windsurfing, and more. Along with the golf course, there is also a golf pro shop. There are nature trails which are easy trails that you can go on with the whole family. Other facilities include tennis, cabanas, restrooms etc.
The address for Crandon Park is – 6747 Crandon Blvd. Key Biscayne Florida.
Bayfront Park
Bayfront Park in Miami is located in the downtown area. This is an old park that has been there in the city since 1924. This park holds a number of events during the year including Fourth of July celebrations which sees more than 60,000 revelers. This park has a statue of Christopher Columbus that was donated to the city by its Italian American community.
Bayfront Park was earlier known as the Royal Palm Park. This park is great for families who want to spend time outdoors relaxing or playing and exercising. There are open spaces and walkways, a sandy beach area, and more. It also has a fountain and a small waterfall with good lighting making it a nice place to hang out during the night. Close to this park is the museum park which has the Paris art museum and the Patricia and Phillip Frost Museum of science. This is considered an extension of the bayfront Park and has extensive grassy areas good facilities for walking and biking as well as an outdoor amphitheater for performances in the community.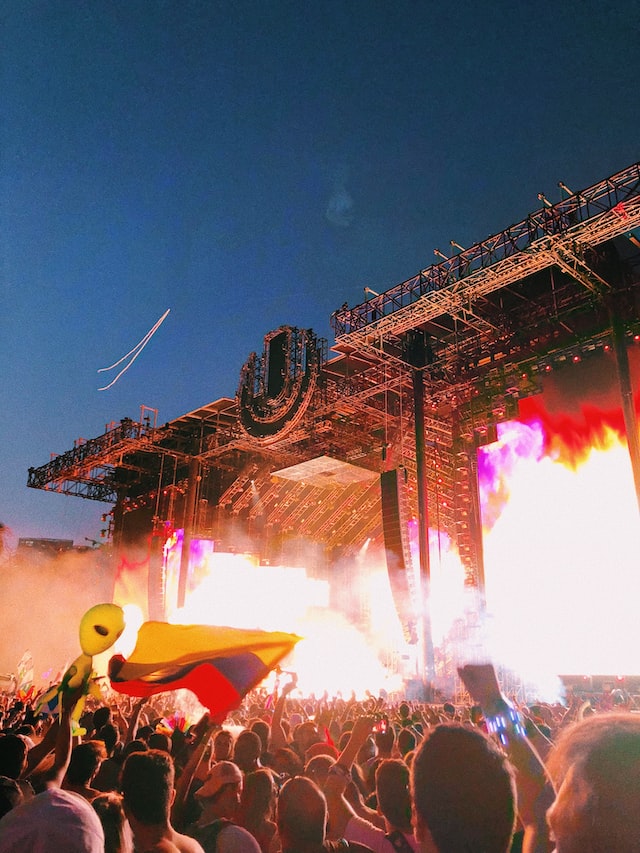 The address of Bayfront Park is 301 Biscayne Blvd, Miami, FL 33132.
Fairchild Tropical Botanic Garden
If you love nature and if you want to share your love of nature with your children there is no better place to introduce them to nature and its wonders than at Fairchild tropical botanic Garden.
This botanic garden is named after Dr. David Fairchild who traveled the world collecting different species of plants and studying them. Dr. Fairchild visited every continent and brought back hundreds of different plants and seeds and fruits including the flowering cherry trees that we see in Washington DC today.
Eventually, he teamed up with other eminent researchers in the same field and established the Fairchild tropical botanic Garden on 83 acres of land. Today this place has a huge collection of rare plants many of them brought back by Dr. Fairchild and helps in researching tropical and subtropical plants from around the world. It has played a very important part in saving endangered plants.
There are a lot of family activities available in this botanic garden which helps teach kids about nature and the importance of conservation. There are more than 3400 species of plants here and they have listed on the website the plants that bloom each month. There are a lot of programs around for young students as well as a lot of tips are given on horticulture. The establishment has researchers and other program enablers contributing to field exploration and laboratory science.
This botanic garden also has a number of events going on including the mango festival, orchid festival, dog dates, sip and stroll, and more. They even have a chocolate festival. The recipe says here that can be rented for private events and weddings.
Address – 10901 Old Cutler Road, Miami, Florida 33156
The Institute of contemporary art, ICA Miami
The Institute of contemporary art is located in the design District of Miami. It is a fairly new museum dedicated to the contemporary arts. It is housed in a three story building which was constructed to mimic a magic box and immediately intrigues the visitor with its geometric shape and texture. It has a number of the permanent exhibit as well as visiting ones. There is a sculpture garden which has works by DeVille, Reyes and others.
It also has the knight foundation art and research center which is the museum's research department.
The Wolfsonian
Founded by Mitchell Wolfson, the Wolfsonian in Miami is located in the south beach area and is housed in a 1927 building at the corner of 10th St. and Washington Avenue. This has now become an entrenched part of South Beach's historic Art Deco district. The Wolfsonian has over 200,000 items as its collection and it continues to grow every year. They have exhibits that are brought in from Europe US and also from Latin America Asia and Africa.
The Wolfsonian has a number of exhibits and items that they have put up online on the digital experiences making it easy for students and art lovers to access at any time.
The Wolfsonian address – 1001 Washington Avenue, Miami Beach, FL 33139