Miami Airport (MIA) has three parking lots / garages– a two-level short term parking lot in front of Concourse E and two seven storied parking garages called the Dolphin and Flamingo parking lots. These are connected to the terminal by walkways on third level. These parking lots though are connected at their western ends.
Miami Airport (MIA) Short term parking – The parking lots directly in front of Concourse E are meant for short term parking. The upper short term ia accessible to the departures level while the lower one accessible via the arrivals level.
MIA Miami Airport Dolphin garage – Short Term Parking is accessible to the North Terminal (Concourses D and E) and also the Central terminal. It is located across from Customs E on both departure and arrivals levels.
What garage to use when flying American Airlines, Qatar Airways, British Airways, and JetBlue from Miami?
You would use the Dolphin Garage when flying American Airlines, Qatar Airways, British Airways, and JetBlue
For all the other airlines from MIA, use the Flamingo Garage.
The Flamingo garage is located close to the South Terminal and serves Concourses E to J.
Miami Airport (MIA) Long-term parking –
Long-term parking at the Dolphin Garage serves the North Terminal, concourses D and E while the Flamingo Garage serves the South Terminal, concourses E to J. These can be accessed on the arrivals or departure levels of the airport.
Miami Airport (MIA) Garage parking rates –
$2 for every 20-minute increment with a Maximum daily rate of $25. The maximum daily rate applies after 4 hours.
What is the most cost effective parking in MIA? That would be the Economy parking Park and Ride that has a daily rate of $12.
The Miami Economy Park and Ride address is 1350 NW 45 Avenue, Miami, Fl – 33126. It is located towards the south south-east of the terminal. A free shuttle service operates to and from the terminal 24/7.
Economy parking – Miami International Airport (MIA) park and ride  rates  – $12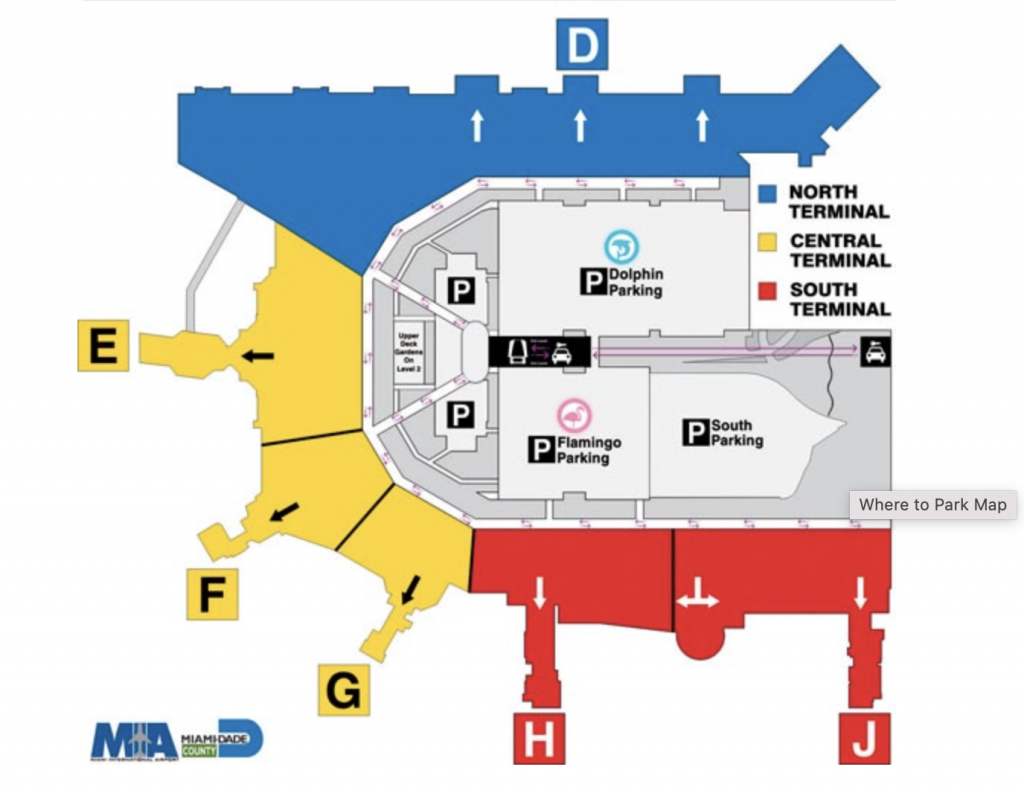 MIA – Miami Airport Offsite Parking Facilities
A number of parking garages offer internet-only Discount Parking Coupons.
Miami Airport Cell Phone waiting lot- If you are waiting to pick up someone from the airport there's free parking at the Cell Phone waiting lot that has 60 spaces for private, not-for-hire vehicles.
EV parking at Miami Airport -This available 24/7 at Arrivals 1st level, inner loop between Terminals E and G and Departures 2nd level, valet parking at the Dolphin and Flamingo Garages.
MIA – Miami Airport Wyndham Parking
Located at 3900 NW 21st Street, the Wyndham Hotel provides a "Stay and Park" package, where one gets 7 nights of free parking for every single night of hotel-stay. There is a 24 hour complimentary Airport Shuttle service.
MIA – Miami Airport Continental Airport Parking
A shuttle service is available from this offsite parking lot, which is located about a mile away from the airport. Please note that there is a $2 surcharge for covered parking.
MIA – Miami Airport Fast Park
Located at 4101 NW 31st St, AFP ("Airport Fast Park") is well connected through shuttle bus to all the terminals.
In addition, many Hotels offer Park n Fly, Park Ride and Park-Sleep-Fly packages. Embassy Suites and Crowne Plaza Hotel offers Parking facilities and shuttle services to & from the airport.
Miami International Airport  Valet parking–
Valet parking at MIA is accessible from the departure level, across from concourse C from Departures/2nd level of the Dolphin and Flamingo Garages.
Valet parking rates –
Short term stay (0 to 3 hours) $22.00
Overnight parking (3 – 24 hours) $35.00
Max Daily rate: $35
Vehicles parked in Valet parking have availability of up to a max of 20 days.
Each terminal at MIA / Miami Airport has it's own Parking and Ground Transportation (MIA Taxi/Cab/Shuttle) facilities.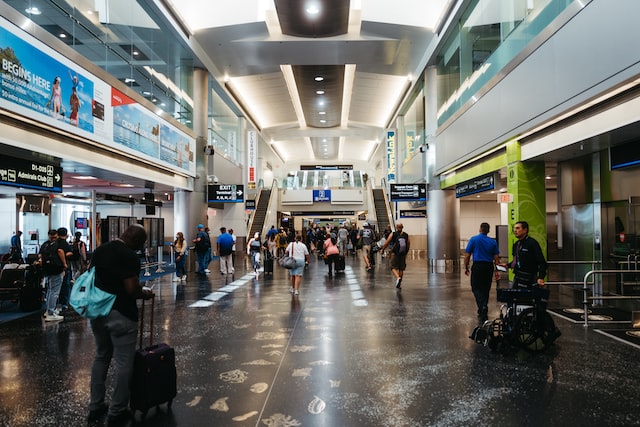 Miami Airport -MIA-Taxi/Cab fare, Metro Bus, train, tri-rail, shuttle
Miami Airport Ground Transportation information –
Miami Airport Taxi / Cab and shuttle service–
Taxi / cabs and shuttles at MIA are available only on the Arrival (Ground) level outside the baggage claim areas.
Flat rates for taxis at MIA / Miami Airport are based on the Zones to which one is traveling. These rates include airport origination fees and highway tolls.
Miami Airport Bus service (Metro-Bus) –
Bus service from MIA serves the Miami-Dade region (Metro-Bus). Buses at MIA are available from the Ground level of Concourse E.
Buses from the Miami Airport go to numerous locations such as the Miami Beach Convention Center, South Beach, Downtown Miami (Bayside), Coconut Grove (Cocowalk), Metrozoo. MIA buses ply to the Greyhound Bus and Amtrak stations as well as to the shopping centers of International Mall, Dolphin Mall, Dadeland Mall, Aventura Mall and Brandsmart.
Miami Airport – Metro-Rail
Miami International Airport Metrorail station can be reached from MIA by a short ride on the MIA Mover.
Other modes of transport serving the city of Miami are the Metro-Rail and Metromover systems. Metro-Rail serves the entire Miami-Dade region. It runs from Kendall through South Miami. The Metromover (an automated people-mover system) serves downtown Miami from Omni to Brickell. It connects with Metrorail at Government Center and Brickell Stations.
Miami Airport Tri-Rail (commuter train) service –
Tri-Rail, a Commuter Train service, provides service to the Miami airport from Broward and Palm Beach counties. The Airport Station for Tri-Rail at Miami is located east of the airport across Le Jeune Rd. Bus connections to the Tri-Rail Airport Station are available from the bus station. For passengers with valid Tri-Rail ticket, Metro-Bus provides free shuttle bus service to the Miami Airport.
Miami Airport Car Rentals, (MIA) –
The MIA Mover is located on the 3rd level between the Dolphin and Flamingo garages. You can get to the car rental facility by boarding the free MIA Mover. This connects directly to the customer service lobby of the car rental companies.
A cheaper but more comfortable alternative for commuting to and from the Miami airport is to avail of the shared shuttle service. These shuttles can pick up passengers from home, office, or hotel and drop at the airport as well as pick up passengers at the airport. Of course, since one would be sharing the ride with other passengers, one needs to have more time in hand than say a cab/car. Reservations are required for pick up from home/hotel/office whereas from the airport reservations in advance are encouraged though not necessary.
Miami International Airport, MIA Terminals
Miami International Airport (MIA) (a.k.a. Wilcox Field) is located about 8 miles from the Central Business district of Miami, in the Miami-Dade county, Florida (USA). MIA – Miami Airport serves the Miami Metropolitan area and the cities close to it are Miami, Doral, Miami Springs and Hialeah and also the area of Fountainbleau.
MIA is a hub for American Airlines, Executive Airlines (under American Eagle name), Gulfstream International Airlines (under the name of Continental Connection) and a number of cargo airlines. Miami airport handles flights to the southern Americas and Europe apart from the domestic flights. It is one of the major gateways to Latin America.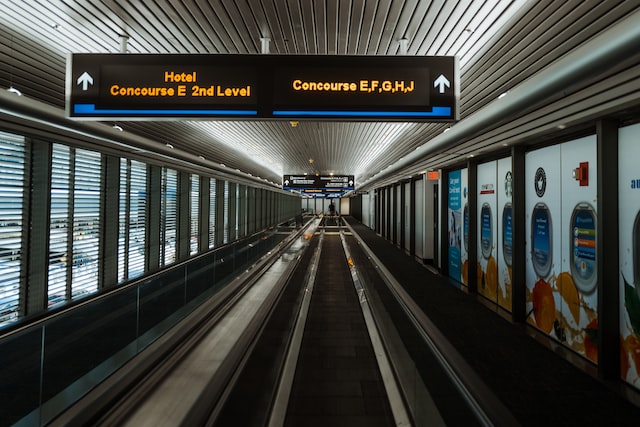 Miami airport Armed forces service center
This facility has free snacks, magazines, TV, phone and computers with internet connection. The center is run by volunteers and is available for military personnel and their families.
Banking facilities at Miami Airport – ( BOFA – bank of america) branch is located at concourse B level 4. ATMs are located throughout the terminals.
The Miami International Tourist Information center is located at Concourse E, Level 2. ( near the Miami International Airport Hotel ). The center is open everyday from 6 A.M. to 10 P.M.
The Miami International Airport Hotel is located at Concourse E, Level 2 and offers 260 soundproof rooms. Facilities include "top of the port" restaurant and conference rooms.
Miami Airport Clubs & Lounges – A number of clubs & lounges are available at various concourses. The admirals club located at concourse D offers a seating capacity of 320, cybercafe , shower facilities, kids-club, music lounges, complimentary tea, coffee and snacks etc.
Miami Airport (MIA) Terminals/Concourses –
The Main Terminal at Miami Airport (MIA) is a semicircular shaped edifice with the concourses D to J around it. Concourse A is currently not in use due to airport extension work going on and "I" is omitted. Concourse E and J handles the international flights. MIA is different from other airports in terms of terminal/concourse usage. No airline holds leases or ownership on any terminal space and hence the airport assigns the terminals and gates. The concourses currently in use at MIA / Wilcox Field  are  D, E, F, G, H and J. The main terminal is divided into the north terminal, central terminal and south terminal.
Things to Do in Miami
Located in southern Florida, Miami is a coastal metropolis that is known as "The Magic City" or "The Gateway to the Americas." There are many things to do in Miami. These include art shows, museums, concerts, festivals, shopping, and so much more.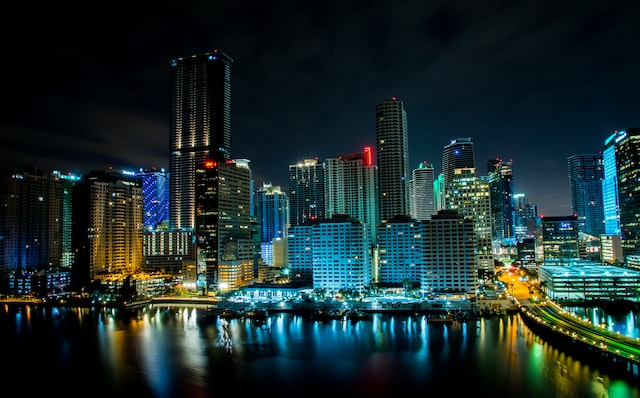 Crandon Park
Located on Key Biscayne, Crandon Park is an oasis of a park that offers over eight hundred acres of natural beauty. It includes a golf course, tennis center, nature center, marina, paved trails, picnic areas, and a beach.
Crandon Park Golf is a championship golf course with beautiful ocean views and stunning sunsets. It has played host to the Senior PGA Tour for many years. The course is considered the most beautiful par-72 course in Florida.
The Crandon Park Beach is the home of the fossilized mangrove reef. The reef is a rich and colorful ecosystem that is home to many sea creatures. Guests can also enjoy kayaking and sailing. Crandon Park Beach is also one of the best bird watching destinations in Miami.
Crandon Park is home to many exotic animals and local plants. Visitors can enjoy the nature center, amusement park, playground, and roller rink. There are also cabanas available for rent.
Visitors can also take part in nature-focused recreational activities led by Miami-Dade County. There will be nature-inspired art installations and educational exhibits, conservation-themed demonstrations, and musical performances.
Crandon Park Beach is also home to a unique fossilized mangrove reef that is home to a variety of colorful sea life. Visitors can also enjoy kiteboarding and windsurfing. There are also volleyball courts, barbecue grills, and a covered picnic area.
Crandon Park Beach is also one of the most popular recreation areas in Miami-Dade County. There are 3,000 parking spaces. During the week, parking costs $5. On weekends, parking costs $7.
Bayfront Park
Located on the banks of Biscayne Bay, Bayfront Park in Miami is a popular place to visit. The park offers a great view of the bay and is a great place to sit and relax. It is also an excellent place to host outdoor events. The park hosts many festivals and concerts. It is also home to the Flying Trapeze School, which offers a unique aerial experience.
Bayfront Park is also home to an amphitheater that can seat up to 10,000 people. The amphitheater has been host to numerous music festivals and concerts. It is also an open-air area that has permanent seating and a casual lawn area.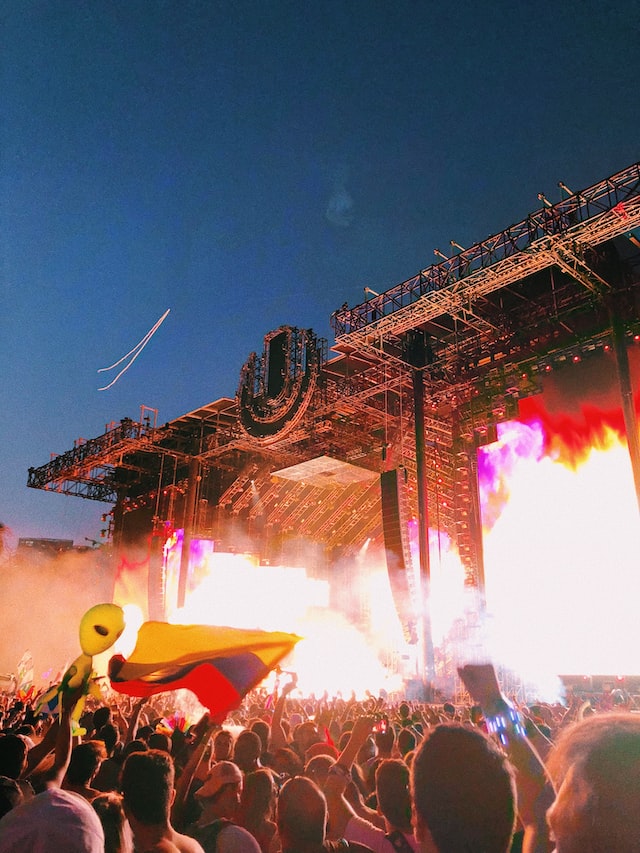 The park is also home to several monuments and statues. One of these monuments is designed by Isamu Noguchi, the world's leading 20th-century sculptor. Its design depicts the human DNA chain.
The park also features a waterfall dating back to 1926. It has a large circular fountain, a tropical rock garden, and winding walkways. The park is also home to a kids' playground. It is a great place to take the family.
Bayfront Park is also home to several festivals, rallies, and concert events. Bayfront Park has been a center for Miami's cultural and political life. It is the city's first public gathering space. It is also used for baseball games and track and field activities.
The park is also home to a large outdoor mall called Bayside Marketplace. It has shops, restaurants, and a number of other attractions.
Fairchild Tropical Botanic Garden
Located in Miami, Florida, the Fairchild Tropical Botanic Garden is a unique tropical garden. It is home to some of the world's most beautiful and rare tropical plants. It is also home to hundreds of exotic butterflies. The Garden is a research center and museum that aims to preserve biodiversity.
Fairchild Gardens also hosts festivals and concerts throughout the year. It also offers classes, art exhibitions and plant sales. They have a number of ways to experience the Garden, including a self-guided tour and a tram tour. The Garden also offers discounts to various groups, including students, families and members.
Fairchild Tropical Botanic Garden is also home to the only tropical rainforest in the continental United States. Visitors can see seven hundred forty-two species of flowering trees, vines and palms. The rainforest is filled with a variety of flora imported from the Amazon. The rainforest is a riot of color throughout the year.
The garden is open daily, except Christmas, from 9:30 a.m. to 4:30 p.m. It also offers several guided walking tours. Fairchild Tropical Botanic Garden offers several cafes and a shop. There are also several classes available, including photography courses, flower-arranging classes and horticulture courses.
Fairchild Gardens also hosts festivals, including the International Mango Festival and the Edible Garden Festival. It is also home to the International Orchid Festival and fundraising galas. It is a 501(c)(3) non-profit organization, which is known for its conservation programs. Its conservation activities include direct support for in-situ conservation, field exploration of important plant areas, and conservation assessments.
Art Basel Miami Beach
Having its origins in Basel, Switzerland, Art Basel is one of the world's largest modern and contemporary art fairs. Each year, thousands of art lovers and collectors from across the globe descend on Miami Beach to check out the works of a wide variety of artists.
During its first edition, Art Basel attracted over 16,000 art lovers. A trio of Swiss gallerists brought together collectors and curators to create an international art fair.
Since then, the fair has grown into the world's most important family of art shows. With over 283 exhibitors from 38 countries and 35 cities, Art Basel Miami Beach attracts thousands of art lovers and collectors to Miami during December.
In addition to its exhibitions, Art Basel Miami Beach also hosts a variety of other programs. In addition to its Survey section, the fair features artist-led initiatives like Conversations, which feature artists discussing their work and their artistic process. These programs are designed to enhance the experience of Art Basel Miami Beach.
Another initiative, the BMW Art Journey Award, was launched by Art Basel in collaboration with BMW. This program, created for promising artists in Hong Kong, rewards artists with the opportunity to participate in artistic journeys throughout the world. Each year, one artist is selected from a shortlist of three finalists. The winner can choose from any of the other finalists or any destination of their choosing.
ICA Miami
Located in Miami's Design District, the Institute of Contemporary Art, Miami (ICA) is a museum dedicated to promoting the ongoing experimentation with contemporary art. The organization also has an impressive collection of artifacts and a comprehensive program for educating the masses, especially children and teens. The building is home to a museum, a public sculpture garden, and a special exhibition gallery. The museum also operates a free entry program. It is no wonder that ICA Miami is one of the busiest art museums in the state.
The museum is located at 112 NE 41st Street, Suite 106. Its new home is a purpose-built building designed by Spanish architects Aranguren + Gallegos Arquitectos. The building has a distinctive front facade that evokes the image of a magnet. Its rear facade features a 15,000 square foot sculpture garden.
The museum's most popular program is its free entry program. It has also tapped into the digital art sector, having purchased CryptoPunk in July. The museum's website features an art calendar and a list of upcoming events. The building's Sculpture Garden boasts works by Mark Handforth and Damian Ortega. The museum's Art + Research Center is a graduate level initiative dedicated to fostering robust dialogue in the greater South Florida area and beyond.
The museum is a proud recipient of many accolades, including the Museum of Art & Design's highest honor, the coveted award for Best Public Art Collection. The museum also holds the title for the largest collection of contemporary art in Florida.
The Wolfsonian
Located in the Art Deco district of Miami Beach, the Wolfsonian is a unique museum. It displays European art, American art, and graphic design. It also hosts temporary exhibitions of contemporary art.
The Wolfsonian was founded in 1986 by Miami Beach philanthropist Mitchell Wolfson Jr., who was an expert in modern architecture and decorative arts. He established the Wolfsonian Foundation to manage and care for the collection. Most of the collection was donated to the museum.
The Wolfsonian Museum is located on South Beach in Miami. It's easy to get to. The museum is small but has some unusual objects. There is a cafe that you can grab a seat in.
The Wolfsonian also hosts musical performances and lectures. It's free to enter for residents of Florida, and $8 for visitors. Children under six can also get in free. You can take a guided tour of the museum on Friday nights.
The Wolfsonian's collection spans the entire modern age of design. It includes paintings, furniture, textiles, and other objects. It also contains several rare books. The museum has been awarded a three-year grant by the Andrew W. Mellon Foundation in 2012.
The Wolfsonian Museum of Art is easy to navigate. It has wide open galleries. The museum has a number of items on display, including paintings, photographs, and magazines. It also has a bookstore. It hosts temporary exhibitions every year.