Updated Nov 2022
Dulles International airport address – 1 Saarinen Cir, Dulles, VA 20166
Dulles International airport code – IAD
The only way to guarantee parking availability at Dulles is to pre-book and reserve parking at the airport.
Dulles Airport Parking rates –
Terminal Lot – $6/hr, $27/day
Economy Lot – $12/day
Garage 1 – $6/hr, $19/day
Garage 2 – $6/hr, $19/day
Their online maps on the official website show the open availability and number of spots available for each parking lot.
Dulles airport has ample parking spaces. It has Economy parking Lots, Terminal parking, Daily Garages, Long Term Parking, Short term parking, and also a free 'cell phone waiting area' for drivers picking up inbound passengers. Disabled parking facilities are available in all of the above.
Daily Garage 1 at Dulles Airport is connected to the lower level of the Main Terminal at Dulles by an enclosed Walkway with moving sidewalks. Daily Garage 2 at Dulles is connected to the upper level of the Main Terminal by a covered Pedestrian bridge. Shuttle services are also available 24/7.
Parking rates at Garages 1 & 2, Dulles: $6 per hour; $27 max for 24 hours.
Economy parking is farther north with access to the Dulles Access Road to Washington & Capital Beltway. The Economy parking areas are named the Blue Economy Parking Lot, Green Economy Parking Lot, Gold Economy Parking Lot and Purple Economy Parking Lot. Free shuttles are available 24/7 between the Main terminal and the Economy parking lots.
Economy Parking rates at Dulles airport: $12 max for 24 hours.
Close to the Economy Parking lots is located the Rental Cars facility.
The Terminal Parking Lot is closest o the Main terminal with one end occupied by the Valet Parking. They are within walking distance from the terminal. It is ideal for parking for less than 2 hours.
Rates for Terminal parking at Dulles airport at the Hourly Parking Lot: $6 per hour; $27/day. As per the airport for this terminal "There is no minimum or maximum length of stay. However, vehicles left for longer than 45 days must be registered with the parking office to avoid being identified as 'abandoned' and removed from the premises at the owner's expense."
The Dulles airport parking Customer Service is available at 1-703-572-4500.
Park and Fly – The Fairfied Inn & Suites provides a free airport shuttle to Dulles Airport, with park & fly rates available.
The Pay & Go automated facility makes it quick and easy to pay for the parking and get going. These machines are located on the lower level of the terminal and on the pedestrian bridge connecting the Terminal to the Daily Parking Garage. It is very easy to use this facility. The parking ticket needs to be taken with oneself – it is not to be left in the vehicle. Make the payments at the Pay & Go machines at the Main Terminal. While exiting the parking lot take the Pay & Go Lanes, insert the ticket at the gate machine and the gate will rise to let the vehicle through.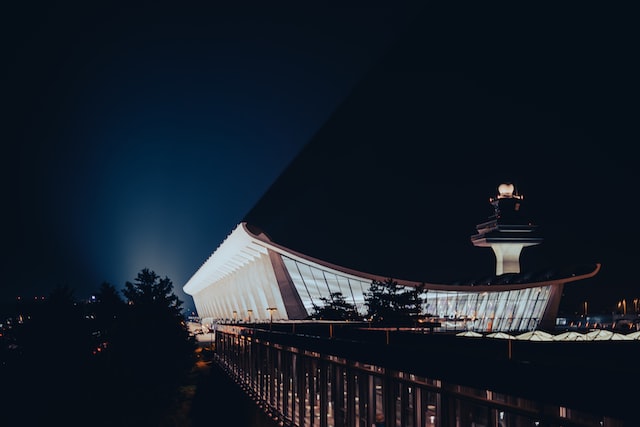 Dulles Airport Taxis, Cabs, Bus, Metro, Shuttle, Rates – IAD, Washington
There is an on-demand taxi/cab service rendered by "Washington Flyer Taxi" which is contractually administered by the Airports Authority. The rates are calculated by the meters which are activated upon departure. Dulles Airport Transportation:
Taxi / Cab services are available from the Dulles Airport to locations within Virginia, to Washington D.C areas and to Maryland locations.
Taxi services are available from Washington Dulles airport to Arlington, Alexandria, Leesburg, Charlottesville Airport, City of Manassas, Manassas Park, Middleburg, Mount Vernon, Pentagon, Reston, Richmond Airport, Rosslyn, Tysons Corner, Warrenton, West Falls Church Metro Station, Winchester, Woodbridge, Union Station, Dulles expo center.
Taxi / Cab services are also available to Andrews Air Force Base, Bethesda, BWI Airport and Rockville in Maryland.
"Taxi" ("Ground Transportation") is located at the lower level of the Main terminal. Reservations are not required and a 24-hour taxi dispatcher would be on duty.

Uber/Lyft ride apps pick ups points at Dulles airport – The curb is located outside Baggage Claim, accessible via Doors 2, 4 or 6.
Bus / Coach / Metro from Washington Dulles airport –
Coaches are available for a round trip from Washington Dulles Airport to Metro (subway) station of West Falls Church Station from where one can continue on. The coach pick-ups and drop-offs are right at the Airport entrance. The buses depart every half hour. The ticket counter is located at Arrivals Door No. 4 in the Main terminal.
The metro is very convenient and economical. For instance, from Dulles Airport to Downtown Washington D.C. one can take the Washington Flyer coach mentioned above to the West falls Church Station and take the train towards "New Carrollton". One can change trains depending on the destination at Downtown since it has metro service throughout.
Metrobus (Route 5A) is also available as an economic transportation means from Dulles Airport to Washington D.C. At the airport, this bus is available at the 'Ground Transportation'' curb. It runs between Dulles Airport and L'Enfant Plaza Station in Washington D.C. with stops at Herndon-Monroe Park & Ride Lot, Tysons-Westpark Transit Station and Rosslyn Station. L'Enfant Plaza is located close to the L'Enfant Metro rail station. This makes all the areas in Downtown including the various Smithsonian Museums very accessible.
Shared Shuttle service to and from Washington Dulles Airport – This is a door to door shared van service. The "SuperShuttle"" ticket counters are located at the Ground Transportation area in the lover level of the Main terminal. Reservations are not required for outbound trips.
Rental cars at Washington Dulles Airport – A number of car rental companies operate here – these include Avis, Hertz, National, Enterprise, Budget, Alamo, Dollar, and Thrifty.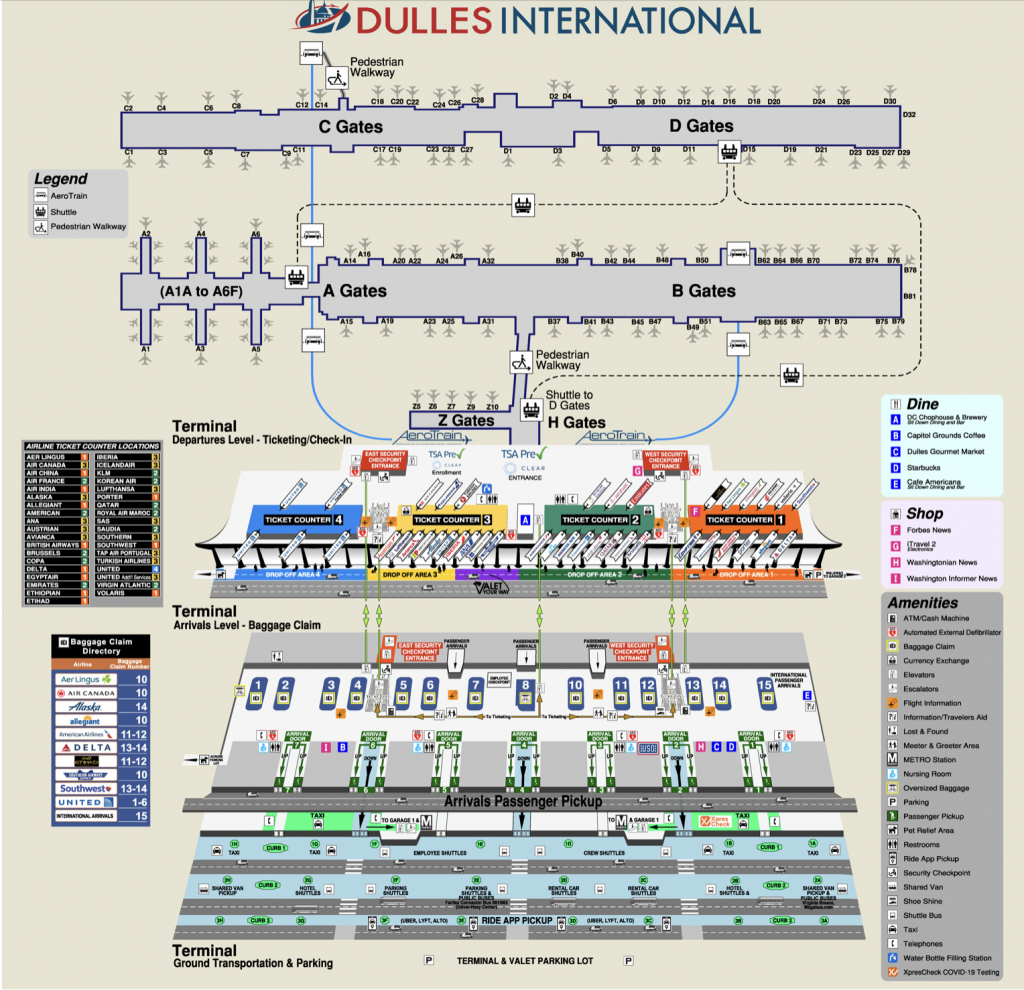 Dulles airport to Union Station, Reagan Airport, Baltimore, BWI, Harrisonburg, Charlottesville, Blacksburg, Redford, Fredericksburg
Washington Dulles International Airport is accessible from all the adjoining areas viz. Ashburn, Sterling, Leesburg, Reston, Manassas, Woodbridge, Springfield, Mount Vernon, McLean, Oxon Hill, Bethesda, Wheaton, Forestville, Charlottesville, Norfolk, Harrisonburg, Richmond etc. The last few Virginia cities are accessible through the Greyhound service.
Washington Dulles Airport to Union Station –
Union Station, Washington D.C is one of the busiest hub points which is served by MARC, Amtrak, and VRE Commuter rail, the Washington Metro trains, and buses. From Union Station, one can get to a number of places in Maryland and Virginia and also to Baltimore, New York, Philadelphia and Boston. The long-distance destinations include Atlanta, Chicago, Miami, New Orleans etc.
Amtrak does not serve Dulles but one can connect to Amtrak from the Union station. To reach Union station from Dulles Airport one can take (apart from Cabs/Taxi and shared shuttles) the 5A bus towards L'Enfant Plaza and get down at the Rosslyn Metro station from where take the Blue Line to Largo Town Center metro station. From there take the Red Line towards Silver Spring and get down at Union Station metro station.
Washington Dulles Airport to Baltimore –
Apart from cabs and shared shuttles, one can take the Flyer Coach to West Falls Church Metro station from where carry on to Union Station. At Union Station, take a MARC Commuter Rail train or Amtrak to Baltimore.
Washington Dulles Airport to BWI (Baltimore Washington Thurgood Marshall) Airport –
The most comfortable options would be Taxi/cab or shared shuttleservices but they would be relatively expensive. A cheaper option would be taking the Washington Flyer Coach to the West Falls Church station of the metro system. Take the train towards 'New Carrollton' and change at Metro Center station to the Red Line to Union Station. Here take the MARC Commuter Rail toBWI rail station. Another way would be to change at Gallery Place metro station and take the Green Line to Greenbelt. At Greenbelt take the Metrobus Route B30 to BWI Airport.
Dulles Airport and the Virginia Colleges in Harrisonburg, Charlottesville, Blacksburg and Redford – Taking the Flyer Coach one can reach the West Falls Church Metro station from where one can take a train to the Vienna metro station. On weekends "Home Ride" provides bus service between the colleges and Vienna Station. From Dulles Airport(IAD) to Charlottesville by Amtrak, one would have to take the Amtrak train from Union station. Reaching Union station from Dulles Airport is mentioned above.
For first-year international students, transit between Dulles airport and Charlottesville is made available by UVaExpress on a couple of scheduled days of the year.
Washington Dulles Airport to Fredericksburg, VA – Flyer coach from the airport to West Falls Church station. From there train to King Street station. Continue from King Street to Fredericksburg via the VRE commuter Train or Amtrak train.
From Washington Dulles Airport to Reagan National Airport –
Apart from the cab/Taxi services or shared shuttle services, one can take the Metro or the Metrobus. But one would have to change at different points. For the Metro, take the Flyer coach to the West Falls Church station from where take the train towards "New Carrollton" and get down at Rosslyn Station. From Rosslyn, take the blue line towards Reagan International airport. The Airport train station and terminal are connected.
One can also take the Metrobus Route 5A from Dulles to Rosslyn Metro rail station and then carry on via the Blue Line train as mentioned above.
From Washington Dulles Airport to National Air and Space Museum Udvar-Hazy Center there is a VRTA Air and Space Museum Shuttle bus taking passengers directly to the Museum.
Washington Dulles Airport (IAD) Hotels, Terminals, Concourse Shuttles
The Washington Dulles International Airport (airport code: IAD) is located in Chantilly, Virginia. It is about 26 miles (40 Km) west of the Central Business District of Washington D.C. The airport is operated by the Metropolitan Washington Airports Authority.
Dulles Airport terminals:
The main terminal has ticketing, customs, baggage claims, and other facilities. From here one can take walkways (to concourse B) or mobile lounges to the required concourses. "Plane mates" or mobile lounges which can be raised to the plane for the passengers to directly board the plane mates and be taken to the terminal are also in use. Baggage claims and ground transportation are at the Lower Level of the Main terminal while the Upper Level has Ticketing. The concourses A, B, C, D, H, and Z at Dulles airport can be accessed via the upper level of the Main Terminal. The "Z" Gates at the main terminal serve US Airways and US Airways Express. Convenient shuttle transportation between terminals is available.
For "premium passengers" there are separate security screening available so that they can move through security faster. The "Dulles Diamond" lanes are available for experienced travelers who can opt to use them.
Concourse A at Dulles can be reached through shuttles from the Main Terminal. The airlines operating from Concourse A is the United Express Airlines which includes Chautauqua Airlines, Colgan Air, GoJet Airlines, Shuttle America, and Trans States Airlines.
Concourse B can be accessed through a moving sidewalk from the Main terminal as well as Shuttles. Shuttles to Gates B14 to B51 (concourse B, Dulles) run every 15 minutes while shuttles to gates B62 to B79 run every 5 minutes. Numerous airlines operate from Concourse B. These include British Airways, Aeroflot, Air France, KLM, Lufthansa, Qatar Airways, AirTran, American, Delta, JetBlue, Virgin America and many more. The Dulles Concourse B AeroTrain station is located between the gates B51 and B62.
Concourse C is also accessed through shuttles from the main terminal (via concourse A). Air Canada, United Airlines and United Express (operated by Shuttle America) operate out of Concourse C.
Airlines operating out of Concourse D include United Airlines, United Express operated by Shuttle America and Ethiopian Airlines. Dulles Concourse D can be accessed through shuttles from the Main Terminal as well as from Concourse A.
Dulles Airport has been undergoing numerous renovation and expansion programs. A new train system known as the "AeroTrain" is being introduced. Passengers can use it to commute between the Main Terminal and the Midfield concourses. It would have stations at the Main Terminal and Concourse B and a temporary connection to the temporary C & D concourses. It is meant to replace most of the Mobile Lounge systems in use today. The AeroTrain is expected to have a wait time of 2 minutes or less and travel time between stations would be 72 seconds.
Emergency Numbers at Washington Dulles Airport:
Police: 703-572-2951
Fire/Ambulance/EMS: 703-572-2980
Internet access at Washington Dulles Airport:
WiFi internet access is available at Washington Dulles Airport. Once the internet browser is opened one can select the service provider of choice as given and set up the password to log in.

Hotels near Washington Dulles Airport:
There are numerous hotels in the counties surrounding the airport. Some of them are given below –
Holiday Inn Dulles Airport, Dulles, VA (703) 471-7411
Lansdowne Resort, Lansdowne, VA (703) 729-4023
The Bailiwick Inn, Fairfax, VA (703) 691-2266
DoubleTree Tysons Corner, Falls Church, VA (703) 893-1340
Dulles Airport Wingate Inn, Chantilly, VA (571) 203-0999
Hotels in Ashburn area, Virgina:
Aloft Dulles Airport North, Ashburn, VA (703) 723-6969
Embassy Suites Hotel Dulles – North, Ashburn, VA (703) 723-5300
Hilton Garden Inn Dulles North, Ashburn, VA (703) 723-8989
Homewood Suites by Hilton Dulles – North, Ashburn, VA (703) 723-7500
Hotels in Herndon area, Virginia:
Candlewood Suites, Herndon, VA (703) 793-7100
Comfort Inn, Herndon, VA (703) 437-7555
Hilton Washington Dulles, Herndon, VA (703) 478-2900
Sheraton Herndon Dulles Airport Hotel, Herndon, VA (571) 643-0950
Hotels in McLean area, Virginia:
Courtyard by Marriott Tysons Corner, McLean, VA (703) 790-0207
Holiday Inn Tysons Corner, McLean, VA (703) 893-2100
Hotels in Reston area, Virginia:
Sheraton Hotel Reston, Reston, VA (703) 620-9000
Hotels in Sterling area, Virginia:
The Washington Dulles Marriott, Sterling, VA (703) 471-9500
Hyatt Place – Dulles North, Sterling, VA (703) 444-3909
Marriott TownePlace Suites Dulles Airport, Sterling, VA (703) 707-2017
Comfort Inn & Suites Airport, Sterling, VA (703) 471-5005